You've arrived at the website of Eighteenth-Century Political Participation and Electoral Culture, or ECPPEC for short. We've collected here an enormous amount of material, from poll books that we have digitised to artefacts found throughout the electoral cultures, in order to shed light on the ways in which people participated in English parliamentary elections between 1695 and 1832 (the 'long' eighteenth century). This could be by casting votes for MPs to represent them in the House of Commons. But the number of people entitled to vote was very small, and most of the population engaged in politics in different, but not necessarily less interesting or important, ways. On this site therefore, we present statistical information on elections and results, and voting data at an individual level, but also images of artefacts associated with elections, recordings of electoral songs, and many other aspects of electoral culture. This is accompanied by a wealth of commentary and analysis.
If you're completely new to eighteenth-century elections, we've prepared a few introductory Feature essays to explain the key concepts. You could start by reading about the basics of Georgian elections. Or why not find out if you would have been entitled to vote in eighteenth-century England with our Who Could Vote interactive.

Alternatively read on to find out more about the wealth of material incorporated into ECPPEC, and how you can access it. If you've only got a few minutes, we've added a few suggested highlights of the site at the bottom of this page.
---
Elections
One fundamental question you might want to ask is how many parliamentary elections were there between 1695 and 1832. This hasn't been an easy question to answer, but we've done the research and crunched the numbers, and present the results in an interactive Election Directory. You can search the Directory to find out when and where elections took place (both general and by-elections, or according to the different franchise arrangements that pertained in different constituencies), and which of them were 'contested' (which is to say, actually went to a vote).
We have a suite of Feature essays that explain election processes in more detail. Dive into our data on how many elections took place, and how many were actually contested, with our interactive Feature on Contested Elections.
---
Poll books
Before 1872, voting in parliamentary elections wasn't secret. Those who were entitled to vote announced their choices publicly, and their votes were recorded in poll books. Not all of these poll books survive, but here at ECPPEC we have amalgamated all the older catalogues, and added more of our own discoveries, to provide a definitive Poll Book Directory. It's interactive too, so you can search and filter the data in lots of ways, and we also tell you which archives hold the original documents. We've got lots of Features that explore poll books in more detail.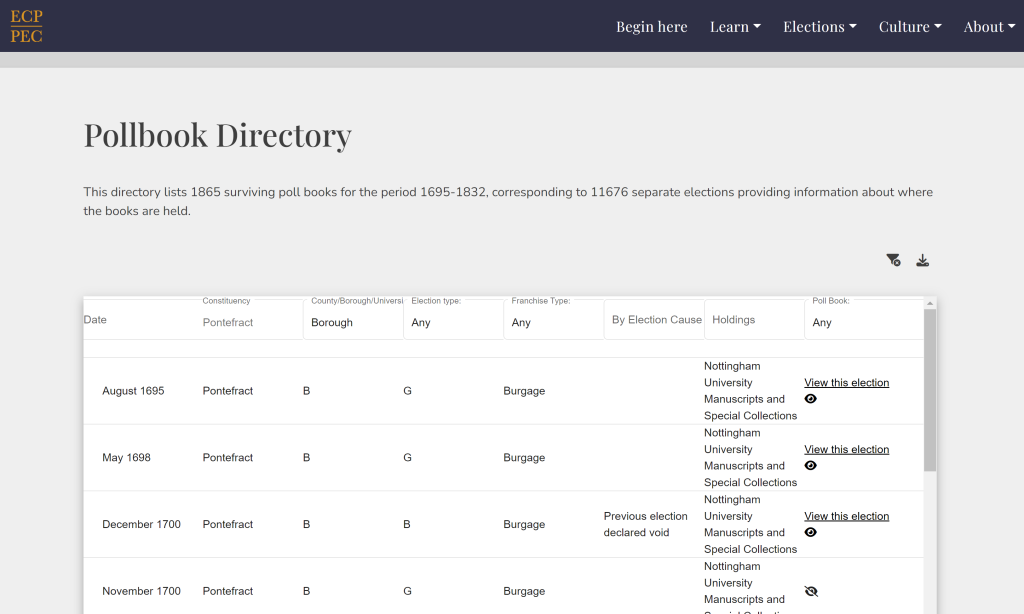 ---
Constituencies
England was divided into 245 constituencies in the eighteenth century (with Scotland, Wales and, later, Ireland adding more). They were different sizes, and often had different arrangements setting out who could vote, ranging from the famous rotten boroughs to huge county constituencies with electorates in excess of 20,000. We offer a short Feature giving an overview, but we have also selected 20 representative case study constituencies to explore in depth. For each of these we provide overall commentary and analysis, as well as more minute analysis of every contested election that took place there. Have a look at Northampton 1768 for example.
---
Voting data
For our case study constituencies we have also transcribed and published all surviving poll books. This means you can search and analyse how individuals, or groups of individuals, cast their votes. You might search to see how someone you know about voted – a famous author say, or one of your ancestors. Poll books give different amounts of information, but where possible we let you search and analyse the polling data by according to criteria such as the trade guilds to which voters belonged, or their place of residence. Have a look at Liverpool 1761 to see some of what's possible. The full digitised poll books are given at the bottom of individual election pages, but you can also interrogate all our polling data by using the Data Explorer.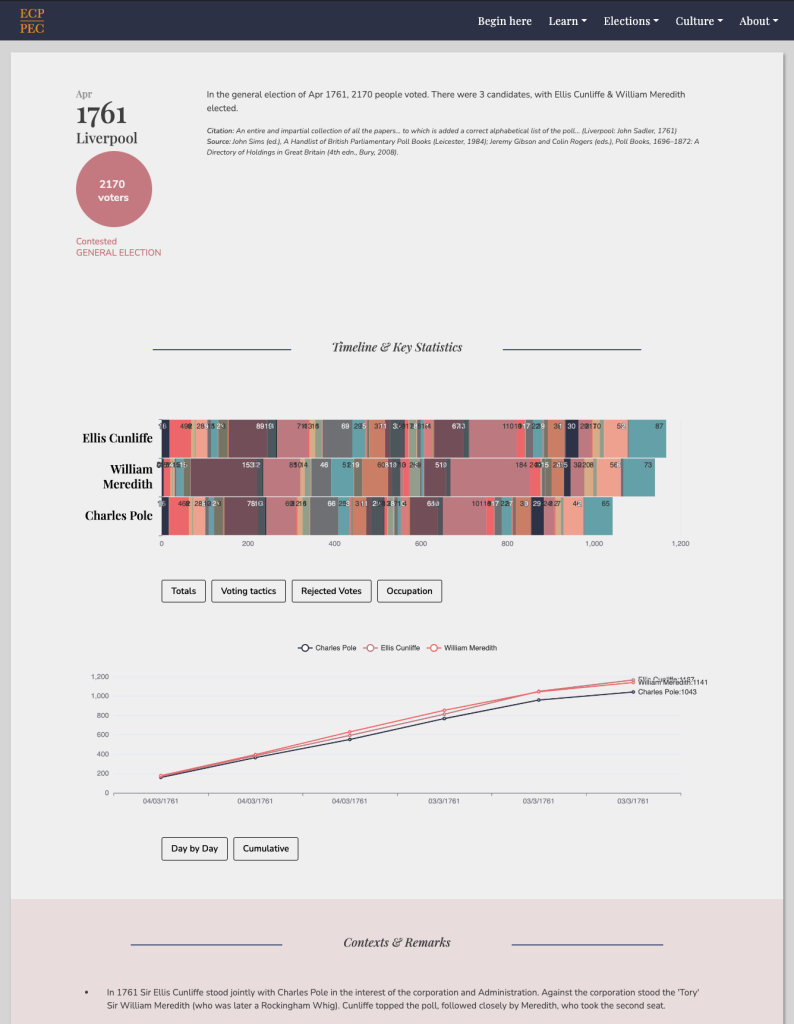 ---
Electoral Culture
Eighteenth-century elections were often accompanied by an explosion of print, sermons and song; countless ceremonies, assemblies and entertainments; new modes of dress, decoration and behaviour; and a wealth of material things, from crockery to coins to fans and clubs. ECPPEC presents some choice examples, collected from dozens of archives and museums. We also commissioned some wonderful singers to recreate election ballads. You can explore all this through our Artefact Explorer, or through our carefully curated online exhibitions.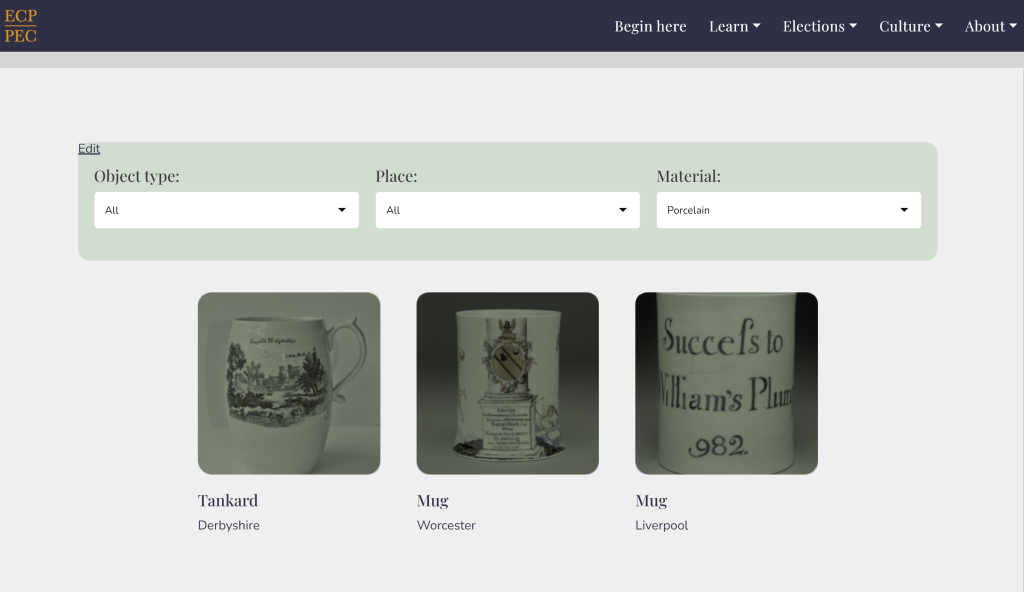 ---
Popular Participation
Above all, the ECPPEC projects argues that more people than one might think were involved in eighteenth-century parliamentary elections. If few were entitled to vote, and all of them adult males, many others were consumers of electoral culture, but also active makers of these extraordinary moments of ceremony, carnival and communal identity-making. Features on processions, petitioning, dances, fashion, theatricals and other topics explore individual aspects of this communal engagement.
Overall our project shows that popular participation and the practice of voting were inseparably bound together. Good places to see this play out are our data stories exploring notable individual elections, such as Westminster 1784, featuring women very prominently; Bedford 1830, with its riot; or Wootton Bassett 1808, captured in a wonderful engraving showing how almost all members of the constituency could participate, even in a borough renowned for its rottenness.
Highlights
Just to get you started, here are a few jumping off points to launch you in the ECPPEC site:
Enjoy!